We've been quite slack on posting this up, so with that in mind we're going to do this arse over apex.
Bad Passion are throwing their last party of 2011 this Saturday with Tourist favourites Phoreski and Felix Dickinson.
Check the Facebook event page for more details.
It's at a secret London locale, so if you want to know where then buy a ticket via their paypal address, badpassionsecret@hotmail.co.uk, after which point you'll receive an email with the full address details.
In the unlikely event that there are any tickets remaining on Saturday (they had to turn a great many people away from their recent birthday party), then the remaining tickets will be available on the door.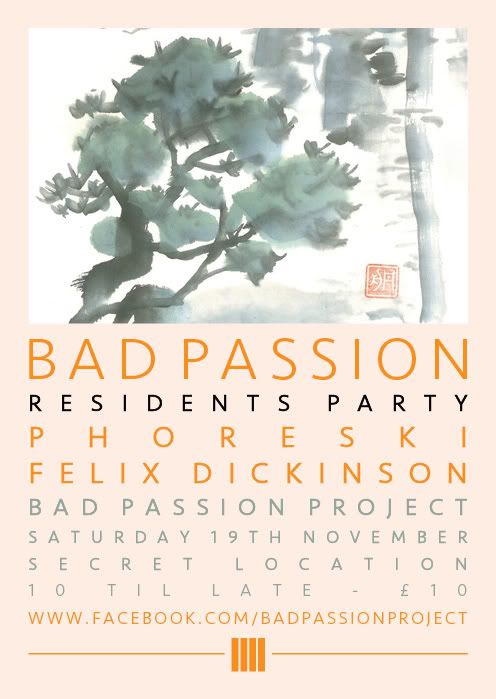 Right, now that's out of the way... who the fuck are Bad Passion?
In all honesty, we imagine Bad Passion should be familiar to the majority of readers, but for those of you who haven't heard of them... all you need to know is that Andy Bainbridge & Chris Stoker are 2 Wearside waistrells who decided to leave the North East of England to turn their backs on the never ending succession of weekend afterparties, badly cut drugs and lost weekends, and move to London, attracted by it's never ending succession of weekend afterparties, badly cut drugs, lost weekends and better general standard of trouser.
3 years ago the two of them, along with Dan Mitchell (formerly of the Cosmic Truth) got off their collective tuchus's (tuchi?) and started throwing parties to let them play the music they wanted to hear and book the people they wanted to dance to.
Over the 3 years the guys have been joined by a host of great talent including Gatto Fritto, KZA, Phil South & Anton Esteban, Nick the Record and a roll call of many other intersting and unique artist(e)s.
The rest as they say (well as I say, because I'm lazy) is history.
In the last 3 years Bad Passion has managed to become one of a very select breed of London party's, in as much as they have a loyal following, they're based on no prevailing musical fashion and they don't pander to the latest trends (sadly, this is still not true in relation to Chris's trousers).
This has all been vouchsafed by such honours as being asked to host a boat party on "The Argonuaty" at Electric Elephant, or recording a mix for Tim Sweeney's "Beats in Space", or being asked to play Bestival, or playing the Art against Knives Van at Loveboxx.... we could go on, but you get the gist.
Anyway, they're good friends and good DJ's, so please do yourself a favour if you're in London Village and go to the party.
... and if you can't make it, then at least you can check out their latest mix here...
Bad passion Project - Dance Infidel Dance mix - November 2011 by BAD PASSION PROJECT
Till next time.
Big love. Tourist. X