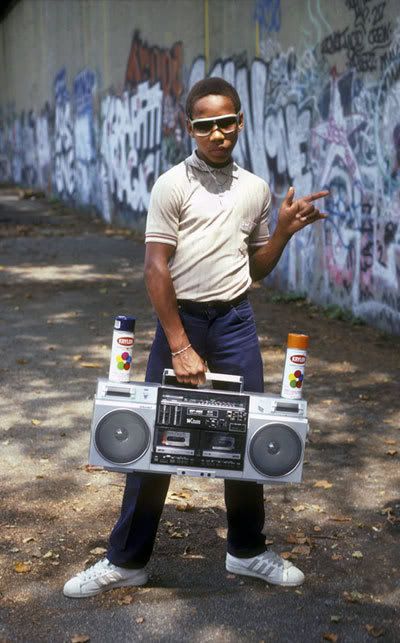 I'll keep the usual pre-amble mercifully short for a change you'll be pleased to hear but needless to say that ageing B-Boys the region wide can rejoice!!
Back in 1982 the 'Streetsounds' label brought out the first in a collection of albums that brought early electro/hip hop into the UK and were, in my view, second to none and remain benchmark moments in musical history. Speak to any die hard B-Boy or B-Girl and they will probably tell you that the 1st six electro hip hop albums plus the 1st two crucial where probably the best albums Streetsounds ever brought out.
The 'New York Vs LA Beats' album came out a little later in 1985.
Enjoy.
New York Side mixed by Mastermind.
1. Afrika Bambaataa & The Soul Sonic Force * Planet Rock
2. Hashim * Al-Naafiysh (The Soul)
3. Captain Rock * The Return Of Captain Rock
4. Aleem * Release Yourself
5. Man Parrish * Hip Hop Be Bop (Don't Stop)
6. Pumpkin * King Of The Beat
7. The B-Boys * Two, Three Break
8. The Russell Brothers * The Party Scene
9. Fresh 3 * M.C.'s Fresh
10. Whodini * Freaks Come Out At Night
11. UTFO * Roxanne, Roxanne
LA Side mixed by Juan Hielscher & Curtis Harvey.
1. L.A. Dream Team * Rockberry Jam
2. Unknown DJ * 808 Beats
3. D.E.F. * D.E.F. Momentum
4. World Class Wreckin' Cru * Surgery
5. Egyptian Lover * Egypt, Egypt
6. World Class Wreckin' Cru * Juice
7. Unknown DJ * Let's Jam
8. Egyptian Lover * Girls
9. Uncle Jamm's Army * Naughty Boy
10. Knights Of The Turntable * Techno-Scratch
11. Knights Of The Turntable * We Are The Knights
12. Chris "The Glove" Taylor * Itchiban Scratch
Download: New York Vs LA Beats Part 1.