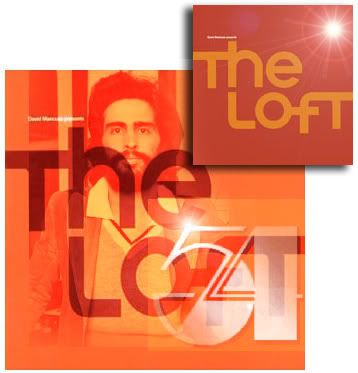 In my personal opinion, a good DJ should have the basis of his appeal firmly rooted in the choice of music he plays, his range and how he allows one track to relate to another.
In this day and age when many DJ's are more likely to try to impress with technical ability, as opposed to their skill in selecting music, it is a breath of fresh air to dust of an old collection like this that has the emphasis very much on the music. The legendary loft parties that were held in David Mancuso's New York apartment, first in the late sixties, and concluding some thirty years later in 1998, were a melting pot and gathering place for some of the city's most innovative pioneers of the New York club scene over this period. It is testimony to the impression made by Mancuso's weekly Saturday night gatherings, that such current players as Danny Krivit and Francois K of NYC's Body & Soul, pay homage to what Mancuso achieved in the extensive sleeve notes that came with this record, and their respect is apparent.
The music it's self is an utter joy to listen to, even despite the poor quality of my copy but STILL never fails to surprise. It is to all intents and purposes a brief family tree of club music in New York over a thirty year period. The first side kicks off with Risco's 'Ain't No Stopping Us', and moves into a very laid back disco sound. Although the CDs copy I've posted is unmixed, the the flow of the music seems almost totally seamless, and this is purely down to the choice and order of the tracks. From what I have read of The Loft, this pretty much captures the vibe of the place, and Mancuso's musical philosophy and I suspect that this is the inherent beauty of this collection.
And as with all the great compilations, if you are into music, and have an open mind, you can grantee you will find amongst it's tracks, a track that is an existing favourite that you didn't realise/know the name of and even better, you're bound to find one or two more that will be sure to become favourites.

I initially ripped the vinyl of this but on listening back to it the quality of the recording, due to my criminal lack of care and general shoddy storage of the record, is pretty bad. All crackles and some naughty scratches. So I've posted an excellent quality copy of the CD which I got from the peeps at the excellent
'Simply Good Music'
blog and would highly recommend that anyone with a passing interest in this type of stuff have a quick look across at it. Anyway, download links below and the password for the files is 'simplygoodmusic'. Enjoy.
David Mancuso Presents: The Loft. Vol 1. (Side 1)
1. Ain't No Stoppin' Us Now * Risco Connection
2. Is It All Over My Face * Loose Joints
3. Spirits In It * Patti LaBelle
4. Get Ready For The Future * Winners
5. Life On Mars * Dexter Wansel
6. Say A Prayer For Two * Crown Heights Affair
7. Love Money * Funk Masters
8. Love Honey Love Heartache * Man Friday
9. Serious Sirius Space Party * Ednah Holt
David Mancuso Presents: The Loft. Vol 1. (Side 2)
1. Yellow Train * Resonance
2. Mystery Of Love * Fingers Inc.
3. Devotion * Ten City
4. High Priestess * Karma
5. Soul Makossa * Manu Dibango
6. City Country City * War
7. Stay Free * Ashford & Simpson
8. Rude Movements * Sun Palace
9. Aeo * Brian Briggs
Whoop! Wait a minute!! BONUS!!

Just managed to lay my hands on a CD rip of Vol 2. So again, rather than subject you to my crackling vinyl, here it is in all it's remastered glory. Same deal as before. Password to unlock the files is the same again, 'simplygoodmusic'.

David Mancuso Presents: The Loft Vol 2. (Side 1.)
1. House Party * Fred Wesley
2. Can't Fake The Feeling * Geraldine Hunt
3. LOVE Got A Hold On Me * Demis Roussos
4. Keep On * D-Train
5. How Much Are They * Jah Wobble & Jaki Liebezeit with Holger Czukay
6. Woman * Barabas & OD1
7. Notice Me * Sandee
8. Los Conquistadores Chocolates * JohnnyHammond
9. Can't Live Without Your Love * Tamiko Jones
10. Girl You Need A Change Of Mind * Eddie Kendricks

David Mancuso Presents: The Loft Vol 2. (Side 2.)
1. Nervous Track * NuYorican Soul
2. Harmonica Track * Soulboy
3. 212 North 12th * Salsoul Orchestra
4. No 5 (Go Bang) * Dinosaur L
5. Set Fire To Me * Willie Colon
6. Chapter Three * Joe Gibbs
7. Walk On Air * Holy Ghost
8. Macho City * Steve Miller Band
9. Little Fluffy Clouds * The Orb
10. Rain * Dorothy Morrison

Till next time.
Big Love. Moogar. X.

Click here to join us on 'Facebook'
Click here to follow us on 'Twitter'