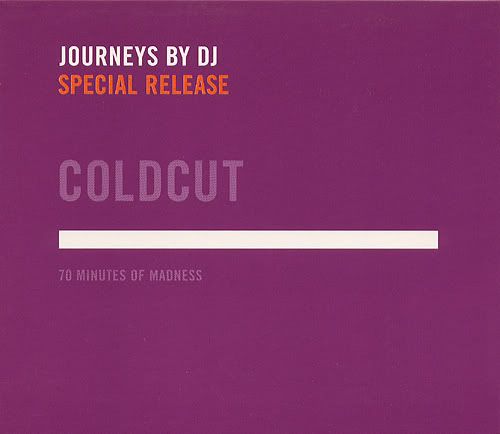 Right then, Friday's worked it's way round again and this is late, I had intended posting this up yesterday but what with the afternoon spent sitting in a cafe with Fos, eating eggs benedict while leering at the nubiles and a hastily arranged trip to Birmingham I've only just had time to put it together.
Anyhoo the sun is out, it's the start of the weekend and the mood is light so what better time to drop a mix that pretty much reflects perfectly the weather and the general feeling today?
Coldcut were always a natural choice to contribute to the growing 'Journeys by DJ' series. One of the leaders of late 1980s cut n' paste, sample heavy brit dance music and the hosts of the influential "Solid Steel" radio show, the London-based duo of Jonathan More and Matt Black helped connect Grandmaster Flash-style Djing to acid house. Coldcut's "Beats and Pieces" (included on this set) ranks near M/A/R/R/S's "Pump Up the Volume" as on of the best collage crossover hits of the era. The duo's own work—they released a couple of singles and three albums in 1988 and 1989—was frequently overshadowed by the quality of their re-mixes and radio work, so it was of little surprise that their breakthrough was this 1996 mix. Coldcut's much-praised mix promises "70 Minutes of Madness," a false claim, really, for a record that blends multiple genres of music into a largely two-speed, yet still sometimes thrilling, stew. (Like the Avalanches' Since I Left You and Primal Scream's Screamadelica it adheres to a policy of building the beats and tempos on its first half before providing a second-half comedown.)
Coldcut were already up to these genre-hopping tricks over 10 years previous to this mix's release though, and had honed their skills for mixing and mashing disperate genres and beats but this mix remains the pinnacle of these sonic experiments. Within these 36 tracks are almost every type of music available, long before the hype surrounding "eclectic" or "bar-club" DJs. Remember, Coldcut were doing it well before the 'Radio Soulwax' mixes and all the legion of immitators.
There are dozens of individual stand out moments from this mix: the overlaying of Junior Reid's dub with storming Drum n Bass; the Jhelisa accapella over DJ Food, Luke Slater's sweeping pads. Shot all the way through with moments of humour, most notably, "Can your heart stand the shocking truth of grave robbers from outer space?".
But in these moments of brilliance is an overall structure that is fresh and inventive and brilliantly executed. Opening with Drum n Bass, moving through to Avant-garde techno, to Jackin' Hip-Hop beats, and finishing with laid-back, deep, ahem, cough, 'Trip-Hop,' it still remains musical programming at its finest.
Hope you enjoy it.
Download 'Coldcut Present: 70 Minutes Of Madness'.
Tracklist:
1. Bola - Philorine
2. Street Beats Vol.2 - Truper
3. One Blood - Reid, Junior
4. Jam On Revenge - Newcleus
5. Extreme Possibilities - 2 Player
6. King Ashabanapal - Funki Porcini
7. Noddy Holder - Jedi Knights
8. Fuk - Plastikman
9. Mo Beats - Coldcut
10. Manganese In Deep Violet - Bedouin Ascent
11. African Drug - Holroyd, Bob
12. If There Was No Gravity - Air Liquide
13. Beats And Pieces - Coldcut
14. Greedy Beat - Coldcut
15. Music Maker - Coldcut
16. Find A Way - Coldcut & Queen Latifah
17. King Of The Beats - Mantronix
18. Mag - Gescom
19. Bloody Vibes - Masters At Work
20. Trumpet Riff - Corderdos, Raphael
21. Grace - Luke Slaters 7th Pain
22. First Time I Ever Saw Your Face - Law, Joanna
23. Balthus Bemused By Colour - Budd, Harold
24. Into The 90's - Photek
25. Bridge Is Over - Boogie Down Productions
26. Nu Blud - DJ Food
27. Friendly Pressure - Jhelisa
28. Freshness - Hookian Mindz
29. Message From Our Sponsor - Jello Biafra
30. Unify - Pressure Drop
31. Again Son - Love Lee
32. Hot Flush - Red Snapper
33. Dr Who - Grainer, Ron
34. Free - Moody Boyz
35. Dusk - DJ Food
Till next time. Big love.
Moogar. X.