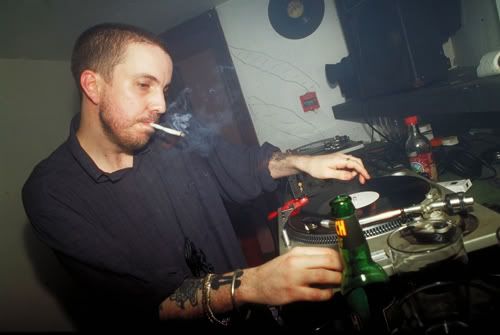 Seeing as we're posting a few of our favourite mixes/compilations from our favourite DJ's/Producers at the minute it seemed only fitting to throw this up. This collection sneaked out in a very 'under the radar' type of way back in 2000 and in the compilation-eat-compilation world of dance music where everyone claims his or her collection is something special, but 99 percent of those are nothing but a memory by the time the next copy of Mixmag hits the newsagents, it's was left to Andrew Weatherall to put together 'The 9 O'Clock Drop' on which he proved himself to be a prospector nonpareil when it comes to mining the late '70s and early '80s roots-of-electronic-music. (In the same vein that Rhino's 'Machine Soul' tried to tap with markedly less success.) The 13 tracks represent a broad range of styles, from experimental-industrial (23 Skidoo) to reggae (Aswad and, less obviously, Colourbox) to new wave (Chris and Cosey, the Normal) to the completely indescribable (Mad Professor's dub shakedown of "400 Blows"). Whoever says they're already familiar with every single cut here is simply a big fat liar, and that's what's so great about '9 O'Clock Drop'. It's a genre-defining compilation, bringing together a bunch of seemingly disparate bands. An excellent collection of mostly beat-oriented cult classics from the 80's featuring a few rare gems such as 'Gina X' and '23 Skidoo'. The key here to Weatherall's concept is the fusion of traditional rock and punk elements and attitudes with the more complex rhythmic structures of funk and reggae. Since bands like Radio 4, The Rapture and mainly LCD Soundsystem became 'overground' success', the music and clubs of the late 70s and early 80s that they and James Murphy's DFA label look increasingly towards, are now more than ever being recognised as a time of great cultural ferment, with the mixing of black and white styles of music creating a new synthesis. All the tracks on this album demonstrate this change, and the music still manages to sound incredibly vibrant even today and it's the 80's production values - heaps of electronics - paradoxically that make these records sound amazingly contemporary, the first truly global music. If this type of gear floats your boat then you could also do a lot worse than look into another compilation from the legendary Nuphonic label called
'Disco (Not Disco)'
which chronicles the NY scene of the same period. A good compilation and a great album with one surprise following another. Nuphonic also released another excellent comp. Their
'David Mancuso presents The Loft'
series also chronicles the very best of underground disco from the 70s to the 90s, and is highly recommended as a great complement to 9 o'Clock Drop.
Anyhoo, I had intended on posting up an old David Holmes mix today but seeing as the chaps across at the excellent Boys Own facebook group posted up '9 o'Clock Drop' just a couple of days ago I figured I'd follow suite. I'll post the intended Holmes mix later this week. But for now, hope you enjoy this compilation it as much as I have over the years.
1. Nice mover - gina x performance
2. Dominatrix sleeps tonite - dominatrix
3. Coup - 23 skidoo
4. My spine (is the bassline) - shriekback
5. Genius - quando quango
6. Water line - a certain ratio
7. Vegas el bandito - 23 skidoo
8. Black and white mix up - 400 blows
9. P2E remix - torch song
10. Warm leatherette - the normal
11. October (love song)'86 version - chris and cosey
12. Looks like we're shy one horse - colourbox
13. Warrior charge - aswad
Download removed by request
Till next time.
Big Love. Moogar. X.