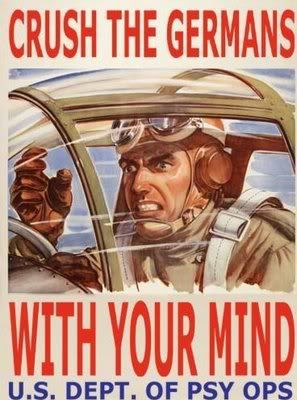 We start this time with a bit of housekeeping from last weeks 'Pirate Special'. A few people have been in touch querying my choice of the pirates we featured and put forward their own nominations. Well fret not sweet people, there will be a 'Pirate Follow-Up' in a few weeks time which will clear up any questions you had and have a run down of new inclusion so hold ya horses till then. But for now here are the answers to the 'are they, arn't they Pirates?' questions you asked.

Pirate or not?

Laurence Llewellyn-Bowen:
T.V. decorating fop known for his long, curley tresses. Just like a girl.

David Essex:
Croaking granny-dampener with a penchant for earrings and fancy waistcoats. (See also: 'Are they, arn't they Pikeys.')

Jeremy Beadle:
Boss-handed TV prankster. Pirate like beard. Watch out!,,,, or not, as he's brown bread now innit!

Bob Geldof:
Irish pop philanthropist with ludicrous beard arrangements and tattooed ex-wife. Has been known to consort with vagabonds and renowned twatist Bono.

Ann Widdecombe:
Feisty bowl-haired beauty and fearsome adversary of Robin 'Redbeard' Cook.
Time to fly 'das' freak flag though now, as we begin to dip into the murky pool of musical one-up-manship that is krautrock. First up, we're having a swift worship at the 'Ash Ra Tempel', one of the most influential groups of the genre. Formed in the early 70's from the ashes of 'Eruption', the band featured such musical heavy-weights as Manuel Gottsching (he of 'E2 E4' fame), Hartmut Enke and Klaus Schulze (who has been a regular collaborater with Pete Namlook recently). A bunch of VERY serious chaps there so it's really no surprise that they would create some of the spaciest, most cosmic music ever made. This track is the A side to their first self-titled LP, released in 1971. Is it epic? Or is it massive? Or is it psychedelic? Who cares? It's amazing!! A drone-y soundscape that slowly but surely builds as the drums and bass get more active. In fact you're nearly 6 minutes in until Gottsching's starts to take the lead with some monster guitar jams and the song comes alive. The track is almost 20 minutes long but stick with it as some of the most amazing moments come after the 15 minute mark, when the heaviest, sludgiest rock band ever shows up to psyche the whole thing out. For full effect, do a load of mescal, whack it on ya i-pod, head to the park, lie down and drop out.
This will probably result in you get arrested for running around in ya underwear and scaring locals by trying to tell them you invented skimmed milk and acusing a passing horse of being a holocaust denier.

Ash Ra Temple - Amboss
Now onto the true big guns of the Kraut movement 'Can'.
'Mushroom' is taken from the album Tago Mago 1970, the first record they made after Malcolm Mooney left due to a breakdown. Left without a vocalist the story is that bass player Holger Czukay found Damo Suzuki busking at a train station and asked him to join the band on the spot. Suzuki played with them the same night and subsequently became a full time member. Originally released as a double album, Tago Mago is probably not as 'Kraut' as their later records and is definitley more of a rock record but it does point to the direction they were headed. 'Mushroom' is probably the best example of this, with a strict, dominant drum beat it quickly settles into a robotic groove which Damo Suzuki babbles around in one of his most impressive vocal displays. Schmidt's synth's wail over the top, and Czukay's minimalist bass adds the finishing touch. Shifting between moody and rock-out, 'Mushroom' is probably the best example of all Can were working towards with their next 2 albums Ege Bamyasi and Future Days.

Can - Mushroom


The Free Association were formed a few years back now by DJ and producer David Holmes and Steve Hilton. Later incarnations saw various other members come and go including San Francisco rapper Sean Reveron and singer Petra Jean Phillipson. Influenced dually by techno and film music, Holmes and Hilton also worked on a number of soundtracks for amongst others Out Of Sight, The Ocean's films and Analyze That. They have also released a number of critically acclaimed albums of their own. But continuing the Kruat-esque theme I've decided on the track that Michael Winterbottom used for the opening sequence for the criminally underatted Code 46. A dreamy, slow burner that brilliantly captures the emotional bareness of the film itself.


The Free Association * Inside/Outside
The Early Years continue the liner musical narrative perfectly from classic 'Kraut' to that most English of musical movements 'Shoegaze' through to 'Drone-Rock'.
First single 'All Zero's And One's' came out in late 2005 and rightly gathered rapturous praise from the likes of Brian Eno, Bobby Gillespie, David Bowie and Kevin Shields. Despite this the band dissapeared somewhat after a couple of singles and their self titled debut album in 2006. Despite showing some great early promise they have to my knowledge, only released 1 record since, 'The Great Awakening' E.P. in 2007. If anyone has any info on what they've been up to since please drop me a line.
The Early Years - All One's And Zero's


Secret Knowledge were the brainchild of music writer and Kris Needs who was primarily known for being somewhat of a journalistic scenester and ligger during the 70's, shacking up with everyone from Allen Ginsburg to Annie Nightingale. 'Sugar Daddy' first appeared in 1992 as one of the first few releases on Andy Weatheralls 'Sabres Of Paradise' label and features regular collaborator Wonder Schnieder as well as the in-house production dream-team of Jagz Kooner, Gary Burns and Tim Holmes. A big record at the time which has still stood up to the test of time and genre incredibly well due mainly to it's rolling Moroder-esqe bassline and minimal, stripped back rhythm. A trance record in the truest sense, before what trance meant was dutch blokes in Oakley Eyejackets and white tracksuits.


Secret Knowledge - Sugar Daddy
Bit of a disco vibe now with 'Madd Luck', Dimitri's edit of 'Bad Luck' by Harold Melvin And The Blue Notes. It's sumertime and the sun's out and there's nowt like hearing Teddy Pendergrass ripping out out a "DOWN DOWN DOWN!!" from the bottom of his lungs over some badass horn blasts! Perfect for those days when you're not in any specific musical mood. For the edit Dimitri has mostly twiddled about with the strings, bass and drums, adding a big kick mix that does away with the more relaxed original.
Harold Melvin And The Blue Notes - 'Madd Luck' (Dimitris' Re-Chop)