Right then, Christmas is a distant memory, the credit crunch (formerly 'rip off Britain' TM.) is well and truly with us all and it's only a matter of time before we're queuing round the block with a wheelbarrow of money to buy a loaf of bread and stabbing each other in the face for the last pack of Super Value Bacon on the shelves in ASDA as the price of pork hits an all time high!
So what better to take our minds off the impending apocalypse than some free music! First up a record from Thomas Bullock, (who's been involved in a fair number of projects of note such as Map of Africa, Rub N Tug, A.R.E.Weapons,) and LA based artist Eddie Ruscha, going under the impossibly twee sounding moniker of 'The Laughing Light of Plenty'. However don't let their unfortunate handle put you off as the track is one of the real outstanding musical moments from 2008, coming on like 'Something Burning' era Stone Roses doing a cover of Vitamin C by Can, produced by way of Prins Thomas or Lindstrom. Now that's a ringing endorsement! So get it straight on the DL.
The Laughing Light Of Plenty * The Rose.
http://www.zshare.net/audio/54085126a6dbe800/
While we're on the subject of great musical moments, 2008 was without doubt the year that London's brilliant 'Dissident' label pretty much ran the show. Covering every possible genre and tempo, they released some of the best and most forward looking music about while getting some major props from all corners. Weather it was the 'Balearic Fops', the 'Slo-Mo Disco snobs' or the 'Real Techno' chin strokers. Anyhoo, amongst the outstanding releases from the likes of Helium Robots, Binary Chaffinch, Invincible Scum and the excellent Truffle Club, a couple really stood head and shoulders above all others. Columbia No.1's unstoppable self titled single was probably the highlight of their releases for me; this was closely followed by the brutal techno workout of Control Voltage's 'Bounce'. A record that manages to sound simultaneously like something that could have appeared on the 'Force Inc' label circa 1995 and the music people will wage war to 500 years in future. I've posted both these in their completed form below as a taster, or introduction to anyone who's not heard anything from Dissident yet (if you haven't, where have you been?) and urge everyone to buy at least one record on the label or even their compilations.
Dissident Records Vol 1. http://www.juno.co.uk/ppps/products/314531-01.htm
Dissident Records Vol 2. http://www.juno.co.uk//ppps/products/332946-1.htm
Columbia #1 * Columbia #1.
http://www.zshare.net/audio/541856309763abef/
Control Voltage * The Bounce.
http://www.zshare.net/audio/54084786cd01af75/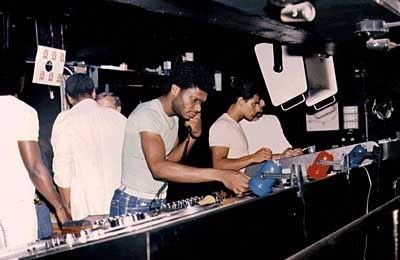 As a counterpoint to the extensive colonic inspections of the aforementioned Balearic, techno and real house brigades and all the very 'serious' music being made mainly by boys for boys, a host of great disco records popped up to lighten the scene somewhat. At the forefront of this were the excellent Hercules & The Love Affair. Building on the success they had on the last quarter of 2007 and shaking off the tag of being 'just disco record that Athony Heggerty was on'. They released some excellent individual tracks and managed to nail that most difficult of feats, making a good quality, cohesive dance long player. Along with Poni Hoax they helped inject a much needed sense of fun (without the usual cheap and cheesy disco shapes,) into 2008. To represent this point I've posted the track 'Night Shift', by Den Haan here. Now this isn't as fabulous as some of the Herc & L.A. stuff or as recklessly enjoyable as 'Antibodies' by the aforementioned Poni Hoax but it's a cracking little track and as good a representation of that sound as any.
Enjoy.
Den Haan * The Night Shift.
http://www.zshare.net/audio/54086549e04aadcd/
As well as disco making a big comeback last year another major musical force flexing its muscles on the sweaty dance floors of our green and pleasant land was the sonorous clank of 'Big Room Techno' (TM Geoff Leopard) or 'Havin' It Electro' (TM Moi.) I've stuck a few of the best bits and pieces hued from some recent releases by the best exponents of the genre below for your aural pleasure, so go on and treat your ears,
Apparat * Arcadia (Sasha Invol2ver Remix)
http://www.zshare.net/audio/53799784fa06da8e/
Stimming * Una Pena.
http://www.zshare.net/audio/53801716da60bae5/
Mugwump * Ignored Folklore.
http://www.zshare.net/audio/538060311944b109/
Cheap Tricks * Bodzin & Huntemann.
http://www.zshare.net/audio/53863462efa5efb3/
And finally, someone once said "A thing of beauty is a joy forever,,,,." So with this in mind, tah-dah! It's the 'Tourist' Death Before Disco mixtape.
http://www.zshare.net/audio/54193526ad740ea3/
1. Mindless Boogie - Dark Desire (rubber room rerub)
2. Nhessingtons - Endless Summer
3. Dr Dunks - The Phone
4. TMS Edits - Life's A Yoyo
5. Toby Tobias - The Feeling
6. Arturo Capone - Waves (max essa remix)
7. Keep Schtum - Hang Together
8. Bad Skinned - Tuxedo Dance
9. Laughing Light of Plenty - The Rose
10. Primal Scream - Uptown (Weatherall's Long After The Disco Is Over Remix)
And for no other reason than it's brilliant, here's some XTC.
Till next week. Big love, Fape. X.