Well that's 2008 done and dusted, and it turns out that despite Simon Cowell cementing his status as the earthbound antichrist by getting some sub standard, cruise ship entertainer version of 'Hallelujah' to the holy grail of the Christmas no. 1, all in all it wasn't too bad a year for 'proper' music. Elbow finally won the Mercury and got some modicum of the recognition they deserve, Portishead almost made the 11 year wait for another record worthwhile with the fantastic 'Third', and even Spiritualized made a good record with the overlooked 'Songs In A & E'. Other honourable mentions go to records of note from The Kills, Fleet Foxes, T.V. On The Radio, British Sea Power and Friendly Fires.
On the Electronic/Dance floor front, 2008 proved to be one of the most forward looking years as far as house music is concerned for some time, with the output from labels like Dissident, DFA and Boarder Community seemingly getting stronger month on month for the whole of the year! I just hope 2009 can match it!
So instead of me banging on at anymore length about the records that floated my boat I've just knocked up a list below (in no particular order) for you to meander through at your own sweet leisurely pace, or not!
Regarde,
The Presets * Talk Like That (Optimo Remix)
Jazzanova * Let Me Show Ya (Henrik Schwarz Remix)
Columbia #1 * Columbia #1
The Truffle Club * Gone Blue
Audion * Against All Odds
It's A Fine Line * Woman (Makhnvshchina Repossession)
Alloy Mental * I Am (Marc Houle Remix)
Giorgio Moroder * I Wanna Rock You (Jacques Renault Edit)
T & T Edits * Don't Stop
Poni Hoax * Antibodies
Radiohead * Back Drifts (Lunatic Fringe Edit)
Boy 8-Bit * Fogbank
Zombie Zombie * Texas Rangers (Danton Eeprom Remix)
Patrice Baumel * Roar
H.O.S.H. * White Elephant
Marc Asken * Root Rot (Shonky Remix)
Bot'ox * Babylon By Car (Richard Sen Remix)
Seq * Down
Moby * I Love To Move In Here (Holy Ghost Mix)
Tomski & Fredboy * Do The Tartlet
Ryan Davis * Wide Open Spaces
Pilas * Night Is
In Flagranti * Intergalactic Bubblegum
Control Voltage * The Bounce
Panthers * Goblin City (Holy Ghost Remix)
LCD Soundsystem * 45:33 (Padded Cell Mix)
Chloe * Be Kind To Me (Krikor Mean Dub)
Bill Withers * Who Is He And What Is He To You (Henrik Schwarz Mix)
Noze *Dans Avec Moi (Sascha Funke Mix)
Stimming * Una Pena
Unit 4 * A New Day (Bangkok Impact Mix)
Remote * Hardstick (LA Horse Remix)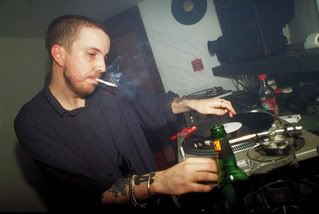 2008 was also notable as it brought us the semi-return to form of Primal Scream. After the somewhat lacklustre pop rock shapes of 'Riot City Blues' the new Scream record wasn't exactly top of many people's most anticipated list, but it did deliver to some extent. Notably with the shuffling 80's New York disco of the standout track 'Uptown'. Even better news was that long time collaborator and English national treasure, Andrew Weatherall had done a spot of knob twiddling for a remix that was to appear on a special vinyl box set version of the album. I was lucky enough to get a copy of the promo release of this some time ago which containes the Weatherall mix and have managed to get round to posting it up just now.
As a special new year bonus of our own, just coz we're top geezers, we here at 'Tourist Towers' have also posted a couple of our fav Weatherall Moments with his seminal mixes of St. Etienne and Finitribe 101. Hope you enjoy them.
Primal Scream * Uptown (Weatheralls Long After The Disco Is Over Mix)
http://www.zshare.net/audio/53485240513486de/
St. Etienne * Only Love Can Break Your Heart (Weatheralls Mix In Two Halves)
http://www.zshare.net/audio/53309425dc73c068/
Finitribe 101 * Sonic Shuffle (Weatherall Mix)
http://www.zshare.net/audio/5331045426313770/
Phew! It's a bumper one today, before I forget, here's couple of other little bits I found in the old promo files that some of the more Techno minded readers might like too.
Sweet 'n Candy * Bloody Minds
http://www.zshare.net/audio/532073479dbdbf66/
Falko Brocksieper * Valley Dive
http://www.zshare.net/audio/53781261314906bc/
That's all I can manage till next time as I've got the flu for the 2nd time in 4 weeks.
Big love. Fape, X.