I feel somewhat of an apology is in need after my WELL self-indulgant opening rant on this here blog I decided that something a bit less preachy and militant would be entirely more fitting for my second post, after all nobby likes to be lectured at, especially when we're trying to get the first time readers 'into-bed' and then 'coming back for more' to use two terrible analogy's. So, just as every man wants to wrest a Woman from her clothing by the application of nothing more than his charm, but knows the intervention of booze, that old ally in matchmaking can't be making him any less attractive, I'm gonna butter you up with some lighthearted 'gor blimey' banter and slip you a half dozen pints to (auraly) losen you're inhibitions in the form of one of my favourite mixes of the last couple of years from one of Europe's finest deck botherers Mr Ivan Smagghe.
Enjoy:
Fuck The Fezzies!!!!!
(,,,Or; 'Why ALL music festivals suck!!')

One aspect that the enclosures acts never took into consideration was the notion that a plot of land would be made available to a significantly sized crowd in order for of all things, recreation! Woodstock, Isle of Wight, countless folk and jazz get togethers and 'pinko' summer camps. Sadly, such gatherings nowadays mean one thing? MONEY and plenty of it. As the 20th century came to a close it was clear that there wasn't a mass of people concerned about poverty or world peace, but havin' a fuckin' good time consuming as much class A as they could.
As long as there was an 'event', there was no need to concern yourself with trivial matters like poverty and peace as they were for losers. Anyway, back to large open spaces. Now rippin' kids off for a night is one thing, but how's about a whole weekend? No surprise and no qualms with this one. In recent years, Woodstock has risen from the ashes. Gone were the idealistic long haired young men of yesteryear and in came the corporate inspired money grabbing bastards. Woodstock may be on the other side of the Atlantic Ocean, unless you're after wood, nails, screws etc, then Woodstock in this case is on Westgate Road, but there are money grabbing bastards this side of the pond too. Before I continue on my old arsed cynical crusade, I'm aware of the old "I found a hole in the fence" lines, yeah, that still happens but the majority paid in. So no matter who tells you that bunkin' in is the reason for upping the tickets prices, fuck'em! They're lying.
The list of festival events in Britain now commend legendary status and it's a bit of an embarrassment in certain circles if you haven't sat in a load of mud for a weekend with nothing but the gear on your back and some skins. I know countless people who insist that the 'natural' hardships of the event are all worth it and that I couldn't 'have a go' as I depend too much on clean water and a soft bed. They always forget to mention my distaste for the E.coli bug and my ongoing allergy that breaks out when I get a pint of piss down my leg or use grass to wipe my arse, even in a porto-loo. Maybe if I had kept hold of the Adventure Kit that I got for Xmas, longer than Boxing Day, when I was a kid then I would have developed a taste for good sounds combined with canvas and cold tins of beans. Sadly, the make-shift camp comprising of bed sheets that was based in our back yard ending in an inferno put a stop to such outdoor pursuits. Unluckily for us, neither Charlton Heston or Lorne Green were based at our nearest fire station.
None the less, many shun the sound advice of festival organisers and turn up in obscure hats, with dogs on string, looking like jesters, rather than the sensible efforts from the YHA shops. Although, that 'cock smoker' front-man in Jamiroquai for years was to blame for this ongoing worrying trend. One mistake that many sneaker pimps (more next ish) attending a festival make first time around is wearing their gazelle. Many a pimp has sobbed after finding their shoes are no longer fit for hanging around the Quayside. All that mud you see! It's the welly for any return visit, although some sort of petrol operated vehicle from a B&Q Warehouse would be more practical. Outfits like 'Cream' and most of the other dance related fezzies have overcome the expense of tents, camping stoves and Savlon. They simply rip the kids off for the night, but here's the smart bit, then kick it all off the next afternoon! Let's not mention the price of bottled liquids for the large number of strangely de-hydrated revellers. However, we must point out the high overheads concerning that plane flying around with a 'Creamfields' banner all day. This particular outfit or event isn't the first venture into the great outdoors for these dance brands, oh no. Those nice people at the Newcastle city council allowed Digital to charge ridiculous high prices to dance at the centre for life lst year and down at the quayside on New Years Eve during the millennium hype. Yes, a private concern asking people to pay rip-off prices to party on public land. What a brave new century and probably more of the same to come.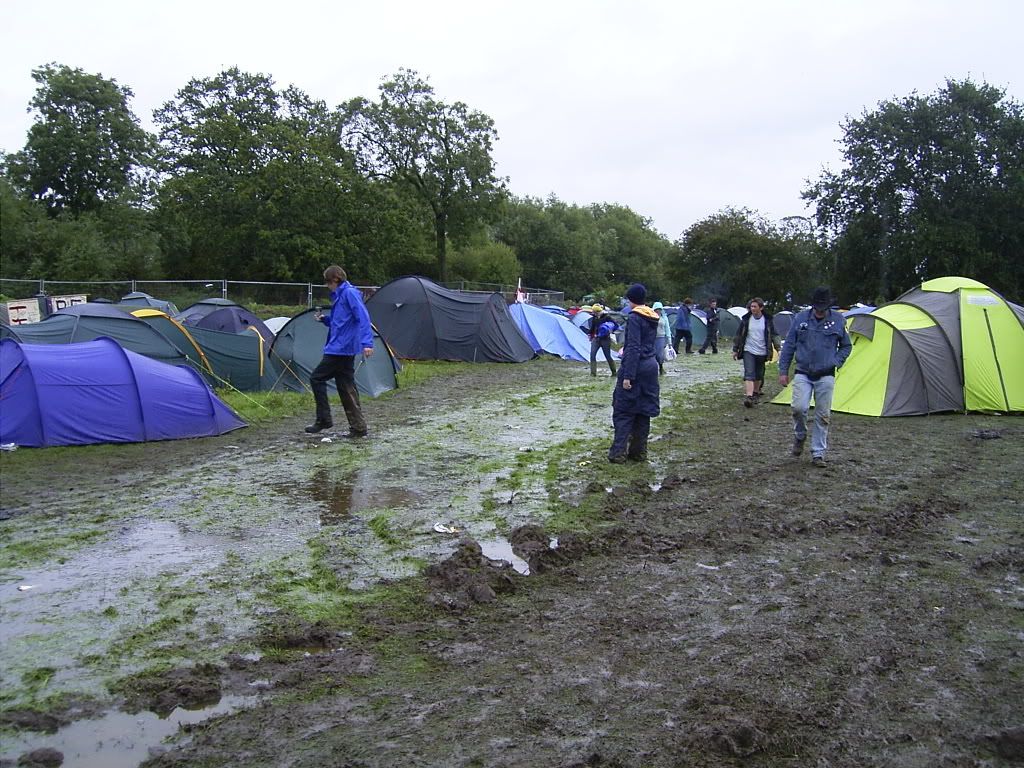 The common ritual of 'tent raiding' is a custom that is not simply confined to Scout Camp. Many have had items of much personal sentiment taken in order for others to construct a special cigarette or to raise funds for 1 can of lager. I have heard of underwear, soap and other such luxuries going astray. Vigilante groups have been formed and many a poor soul wrongly accused of pilfer and dealt with all the zeal of a medieval witch trial. If you insist on attending such a gathering I recommend plenty of card, stored in dry environment, and a bank heist to pay for your scran an' ale. Or buy one of those US style motor homes, then you can simply drive the bus up to the front of the stage, just watch any potential "not past me mate" types clear your path a.s.a.p.
And how long before the likes of corporate footy festivals start? Weekends in tents, with Beck's and other national heroes joining in mud fights and other hearty shenanigans. Maybe Adidas will produce a pro-model welly version. Then you won't have to wear a Fireman Sam or Tweenies pair of wellies and the sneaker pimp will maintain that certain look. Forget Virgin or Carling, I reckon that the Army and Navy Stores are the real money behind these festivals. So, if you're still intent on going next year even after reading this, stick to Burghaus and Co, and leave your 'free the weed' t-shirts at home fuck face!!
From my archieves as promised: Ivan Smagghe, Rainer Weichhold & Marcus Moehta @ Rote Sonne club. 02/02/2008.
http://depositfiles.com/en/files/3739700
X. Fape.