Reet, straight down to business today then, and we're kicking off in the best way possible with what can only be described as me stamping down hard on the breaks of my verbal discharge and a hefty clog down on the accelerator of moozik innit bredrins! So check,,,,,,
In semi-cultural news, a DVD titled "Wild Combination: A Portrait of Arthur Russell" came out at the beginning of November following a rather splendid sounding launch at the ICA Bar in London (where NOBODY I know went) with a Russell inspired DJ set from Optimos 'Twitch' (Who I'm semi obsessed with at the moment.) Now I'm not a huge fan of Russell's, mainly due to the fact that outside of the Dinosaur and Wax The Van stuff I was never aware of much more of his work or really of his relevance till about 18 months ago. So I ordered the DVD a few weeks back and just like every good music nerd, I've still not got round to watching it yet, so here's a brief revue by Observer Music Monthly from the inlay card.
"The film is a touching portrait of the avant jazz/disco superstar who died from AIDS in 1992 and contains rare archival footage and commentary from Arthur's family and friends. A brilliantly insightful look into an extraordinary life. The most important man you've probably never heard of."
So there you go. Hope that help's. If that's not enough for you then here's a nice little DFA remix that came out to little or no acclaim a few years back that I really liked but everyone else seemed to hate for some reason, Go figure?
Arthur Russell * Springfield (DFA Remix)
http://www.zshare.net/audio/519233767a2d0bb3/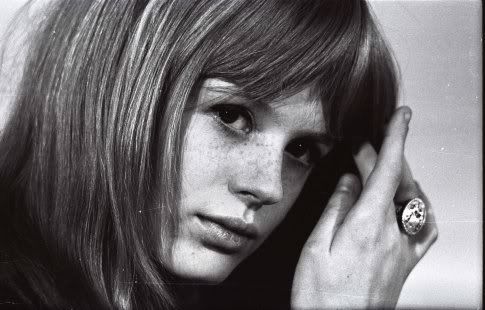 You'd think that begining life as lead singer with a San Francisco electroclash band with the bilious handle 'Luxxury' that in your whole career were you responsible for nothing more interesting than couple of very average albums you'd have punched well above your weight right? Wrong! Erstwhile singer with 'Luxxury' the mysterious 'Baron Von Luxxury' continued onwards and upwards knocking together a really rather decent back catalogue of edits/remixes along the way over the last few years. And so it was that I was digging through a box of old CD's earlier this week and came across a brace of his remixes that I like particularly and laid them to one side 'spesh for some hot blog action innit. So after at least an hour and a half's technical jiggery-pokery, 'ere they is my loves, a tidy re-edit of the already discotastic 'Broken English' by Marianne Faithful (and yes gentlemen of a certain age I'm aware that early 90's rave-bots 'Sunscream' did a cover of it too!) and to keep things a wee bit current, there's a nice big fat bass driven remix of 'Meddle' by media darling du jour, Little Boots.
Smoke 'em while ya got 'em!!
Marianne Faithful * Broken English (Baron Von Luxx Slow Mix)
http://www.zshare.net/audio/519331286b568a09/
Little Boots * Meddle (Baron Von Luxx Technicolor Mix)
http://www.zshare.net/audio/51937031b42799d0/
Much love,
Fape x.