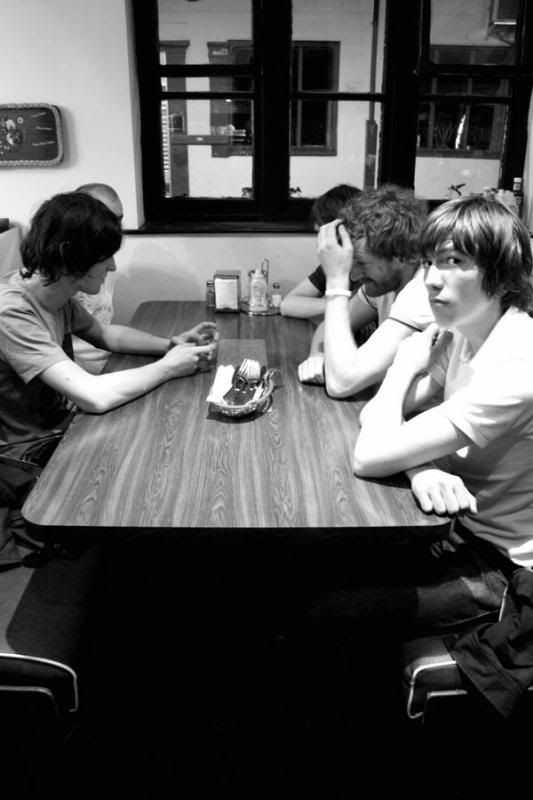 This is one of those rare occasions where i can legitimately say i knew about the next big thing first.
Well sort of, I've known 50% of the band for years, but I've still (inexcusably) yet to actually see them play.
I doubt my lack of physical patronage will cause them too much distress however, as their currency seems to be going from strength, to strength, to fupping strength!
A rough reverse timeline would include the following.
Irish tour with PRIMAL SCREAM!
Regular fawning praise in the NME
Mini tour playing with the likes of GlasVegas.
Record Deal
Turning down the Newcastle leg of the Oasis tour.
Being only the 2nd band signed up by Geoff Barradale (Manager and discoverer of The Arctic Monkeys)
Pulling out of (an extremely high profile) battle of the bands (even though they'd been gauranteed a slot in the final)
Band formed from some of the best players on the North East Circuit.
Generator Magazine Touting (the then non-existent DSC) as the ones to watch in 08
Lead singer, Dave Burns, making a couple of 1 man demos under the name Detroit Social Club.
All of the above took place in less than 12 months.
Anyway, I'd like to take the opportunity to lead you towards their myspace, which features all of the music they see fit to make public at present.
www.myspace.com/detroitsocialclub
Also, as a bit of a curiosity, here's a (vastly incomplete) remix i was doing for them.
http://www.zshare.net/download/522977079258bdbc/
One day i might actually get round to finishing it!